Time for another TBR clean up! 'Trimming the TBR' is a feature on my blog where I look at the 20 books that have been on my TBR the longest and decide whether I am keeping them or taking them off. The books I read change drastically year to year and sometimes I impulse add books that looking back, I don't really want to read.
I'm not going to go into great detail about why I'm taking these off of my TBR, but they are all being removed because I'm not interested in reading them anymore. A common theme is contemporary YA or historical fiction, which I was really keen on a couple years ago but not so much anymore.
Big Little Lies by Liane Moriarty
I'm still super keen to read this book! Especially since it is now a television show which has some really good reviews. I really want to read the book before the show as I much prefer to read a book knowing no spoilers and then watch the television show knowing what will happen.
Gentlemen and Players by Joanne Harris
This book sounds like a such a cool thriller set at a prestigious private school. I'll be looking for it at my local library next time I go there.
You by Caroline Kepnes
I actually didn't realise I had added this to be TBR a couple years ago. I just started watching the series last week and upon learning it was a book, went straight to Goodreads to add it to my TBR. I've heard that it is better then the show so I am definitely going to read it in the future.
Hag-seed by Margaret Atoof
I have only read The Handmaid's Tale by Margaret Atwood and I am looking to read some more of here works. This is described as a retelling of The Tempest. How could I take it off my TBR after that?
Rot and Ruin by Jonathan Maberry
I'm very picky when it comes to Zombie books, as they are very overdone, but this book sounds like something different in the genre.
The Infinite Sea by Rick Yancey
I already read the first in the series and really enjoyed it, so I am keen to continue on in the series. I also think I have a copy of this book sitting on my TBR shelf at home so it makes it even easier to pick it up eventually!
The Name of the Wind by Patrick Rothfuss
An amazing fantasy book I have heard so much about… of course I am keeping it on my TBR!
An Ember in the Ashes by Sabaa Tahir
This is another YA fantasy book I have seen floating around on many blogs and on Goodreads. Since I picked a copy up at a second hand book sale, I'm going to commit to reading it and seeing what it is all about!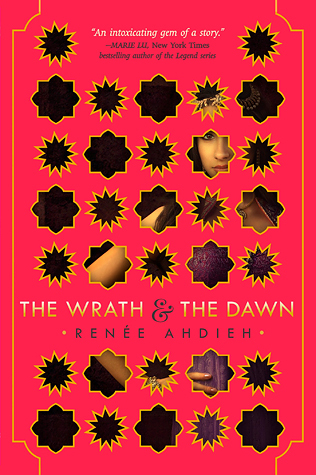 The Wrath and the Dawn by Renee Ahdieh
Similar to the above YA book, The Wrath and the Dawn has been showing up around the book blogging community. I'm excited to give it a go and see what it is like as I am always looking for a new series.