Check out the Top 5 Wednesday Group on Goodreads here!
I totally wrote last weeks post about my physical TBR and didn't realise that the next Top 5 Wednesday post was all about the books at the tip top of your incredibly tall TBR. I've decided to include a mix of the books from that previous post and some ebook ARCs too!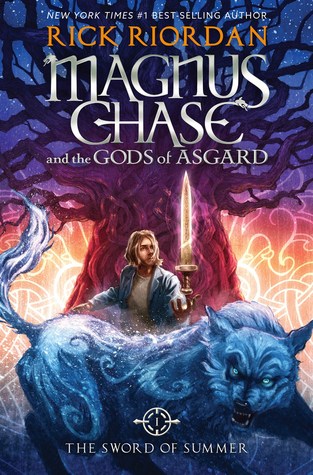 Magnus Chase and the Sword of Summer by Rick Riordan
This is at the top of my TBR as I know that as soon as I pick it up it will be finished in a day or two. I'm so excited to get back into Rick Riordan's books and start a new series of his!
The Dark Forest by Cixin Liu
I really want to get around to reading The Dark Forest and continue this incredible science fiction series. The first book was something completley different for me and I am so keen to see where it goes.
The Bomb Maker by Thomas Perry (ARC)
While I am mainly a science fiction and fantasy reader I do love a good thriller! When I spotted this book on Netgalley I knew I had to request it and after reading some heavy non-fiction books, I am looking forward to losing myself in an action packed book.
The 7 1/2 Deaths of Evelyn Hardcastle byStuart Turton (ARC)
I recieved this as an ARC and I'm so sad I did not get around to reading it in 2018 (and missing the release date!) I've heard great things about it so I am planning to finally clear it from my TBR.
Obscura by Joe Hart (ARC)
I've got a couple of Joe Hart's other books on my TBR and I was so excited to received this ARC…which I still need to read.
Have any books you are itching to read? Let me know in the comments!