Friday is here, and that means it is all so close to being the weekend! And it is time to look at the number of books I have added to my TBR in the past week. I have to accept that there is no way I will ever get my TBR list to a manageable number of books.
The Song of Achilles by Madeline Miller
Greece in the age of heroes. Patroclus, an awkward young prince, has been exiled to the court of King Peleus and his perfect son Achilles. Despite their difference, Achilles befriends the shamed prince, and as they grow into young 
men skilled in the arts of war and medicine, their bond blossoms into something deeper – despite the displeasure of Achilles' mother Thetis, a cruel sea goddess.
But when word comes that Helen of Sparta has been kidnapped, Achilles must go to war in distant Troy and fulfill his destiny. Torn between love and fear for his friend, Patroclus goes with him, little knowing that the years that follow will test everything they hold dear.
---
I have not read many fictional books that feature mythology and the description of this book sounds so amazing! My best friend also is doing honours in ancient history so I think I might read this and recommend it to her if it is any good.
The Sons of Ares Graphic Novels by Pierce Brown
While the Sons of Ares are on the run as their mission takes a deadly turn, Fitchner Au Barca's time at The Institute is revisited. He learned many lessons there, but the most important of all was one of loyalty. The Peerless Scarred stand above all and look down on the rest. Their dismissal of one of their own proves to be a fateful error.
---
I love this series and I am really looking forward to delve deeper into the world the book is set by reading these graphic novels.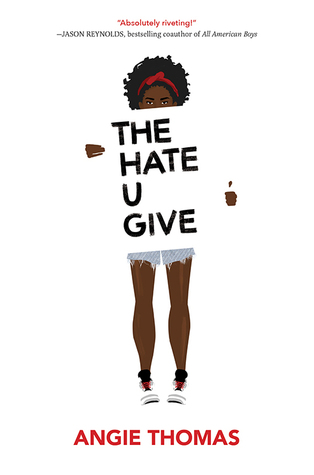 The Hate U Give by Angie Thomas
Sixteen-year-old Starr Carter moves between two worlds: the poor neighborhood where she lives and the fancy suburban prep school she attends. The uneasy balance between these worlds is shattered when Starr witnesses the fatal shooting of her childhood best friend Khalil at the hands of a police officer. Khalil was unarmed.
Soon afterward, his death is a national headline. Some are calling him a thug, maybe even a drug dealer and a gangbanger. Protesters are taking to the streets in Khalil's name. Some cops and the local drug lord try to intimidate Starr and her family. What everyone wants to know is: what really went down that night? And the only person alive who can answer that is Starr.
But what Starr does or does not say could upend her community. It could also endanger her life.
---
This has been one of the most talked about books in the book community and I have heard so many positive things about it. This book also explores very important issues, most of which are so relevant to today.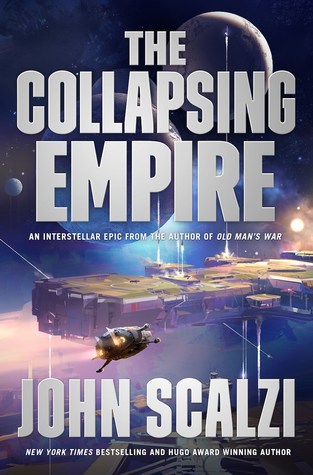 The Collapsing Empire by John Scalzi
The first novel of a new space-opera sequence set in an all-new universe by the Hugo Award-winning, New York Times-bestselling author of Redshirts and Old Man's War.
Our universe is ruled by physics and faster than light travel is not possible — until the discovery of The Flow, an extra-dimensional field we can access at certain points in space-time that transport us to other worlds, around other stars.
Humanity flows away from Earth, into space, and in time forgets our home world and creates a new empire, the Interdependency, whose ethos requires that no one human outpost can survive without the others. It's a hedge against interstellar war — and a system of control for the rulers of the empire.
The Flow is eternal — but it is not static. Just as a river changes course, The Flow changes as well, cutting off worlds from the rest of humanity. When it's discovered that The Flow is moving, possibly cutting off all human worlds from faster than light travel forever, three individuals — a scientist, a starship captain and the Empress of the Interdependency — are in a race against time to discover what, if anything, can be salvaged from an interstellar empire on the brink of collapse.
---
This book had me at 'space-opera'. I am really into science fiction at the moment, and this looks like such an amazing series to start reading.
Magpie Murders by Anthony Horowitz
When editor Susan Ryeland is given the manuscript of Alan Conway's latest novel, she has no reason to think it will be much different from any of his others. After working with the bestselling crime writer for years, she's intimately familiar with his detective, Atticus Pünd, who solves mysteries disturbing sleepy English villages. An homage to queens of classic British crime such as Agatha Christie and Dorothy Sayers, Alan's traditional formula has proved hugely successful. So successful that Susan must continue to put up with his troubling behavior if she wants to keep her job.
Conway's latest tale has Atticus Pünd investigating a murder at Pye Hall, a local manor house. Yes, there are dead bodies and a host of intriguing suspects, but the more Susan reads, the more she's convinced that there is another story hidden in the pages of the manuscript: one of real-life jealousy, greed, ruthless ambition, and murder.
---
This book was suggested to me by Goodreads and it is not normally a genre I read. I do love a good mystery/crime book, I do not normally seek them out to read.
Waking Gods by Sylvain Neuvel
As a child, Rose Franklin made an astonishing discovery: a giant metallic hand, buried deep within the earth. As an adult, she's dedicated her brilliant scientific career to solving the mystery that began that fateful day: Why was a titanic robot of unknown origin buried in pieces around the world? Years of investigation have produced intriguing answers—and even more perplexing questions. But the truth is closer than ever before when a second robot, more massive than the first, materializes and lashes out with deadly force.
Now humankind faces a nightmare invasion scenario made real, as more colossal machines touch down across the globe. But Rose and her team at the Earth Defense Corps refuse to surrender. They can turn the tide if they can unlock the last secrets of an advanced alien technology. The greatest weapon humanity wields is knowledge in a do-or-die battle to inherit the Earth . . . and maybe even the stars.
---
I added the first book in this series to my TBR in one of my first 'Friday Finds' posts and I saw this pop up in my Goodreads feed and decided to add it to my list.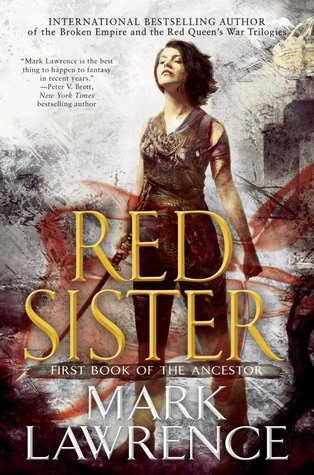 Red Sister by Mark Lawrence
I was born for killing – the gods made me to ruin.
At the Convent of Sweet Mercy young girls are raised to be killers. In a few the old bloods show, gifting talents rarely seen since the tribes beached their ships on Abeth. Sweet Mercy hones its novices' skills to deadly effect: it takes ten years to educate a Red Sister in the ways of blade and fist.
But even the mistresses of sword and shadow don't truly understand what they have purchased when Nona Grey is brought to their halls as a bloodstained child of eight, falsely accused of murder: guilty of worse.
Stolen from the shadow of the noose, Nona is sought by powerful enemies, and for good reason. Despite the security and isolation of the convent her secret and violent past will find her out. Beneath a dying sun that shines upon a crumbling empire, Nona Grey must come to terms with her demons and learn to become a deadly assassin if she is to survive…
---
I am always looking for new Fantasy series, and when I read the description I was reminded of Mia and Aelin-both deadly assassins who were at the mercy of the society and saved from death. I am really keen to pick this book up.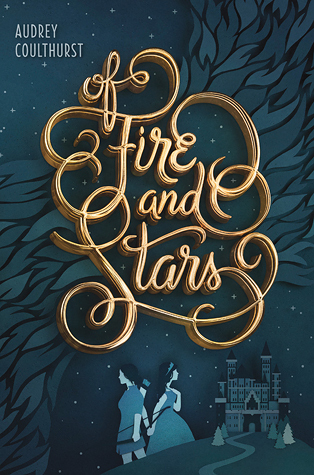 Of Fire and Stars  by Audrey Coulthurst
Betrothed since childhood to the prince of Mynaria, Princess Dennaleia has always known what her future holds. Her marriage will seal the alliance between Mynaria and her homeland, protecting her people from other hostile lands. But Denna has a secret. She possesses an Affinity for fire—a dangerous gift for the future queen of a kingdom where magic is forbidden.
Now, Denna must learn the ways of her new home while trying to hide her growing magic. To make matters worse, she must learn to ride Mynaria's formidable warhorses—and her teacher is the person who intimidates her most, the prickly and unconventional Princess Amaranthine—called Mare—the sister of her betrothed.
When a shocking assassination leaves the kingdom reeling, Mare and Denna reluctantly join forces to search for the culprit. As the two become closer, Mare is surprised by Denna's intelligence and bravery, while Denna is drawn to Mare's independent streak. And soon their friendship is threatening to blossom into something more.
But with dangerous conflict brewing that makes the alliance more important than ever, acting on their feelings could be deadly. Forced to choose between their duty and their hearts, Mare and Denna must find a way to save their kingdoms—and each other.
---
I am in love with both the cover and the description of this book! I have not read many LGBT books and I look forward to reading some more books in this genre and see how great the representation in books is becoming.
Genesis by Brendan Reichs
Noah Livingston knows he is destined to survive.
The 64 members of Fire Lake's sophomore class are trapped in a place where morals have no meaning, and zero rules apply. But Noah's deaths have trained him–hardened him–to lead the strongest into the future . . . whatever that may be. And at any cost.
Min Wilder knows that survival alone isn't enough.
Trapped in a violent world where brute force passes for leadership, it's tempting to lay back and let everyone else fight it out. But Min's instincts rebel against allowing others to decide who lives and who dies. She's ready to fight for what she believes in. And against whomever might stand in her way.
---
I read the first book in the series earlier this week and I am really looking forward to delving into the sequel. My review of the first book Nemesis is here.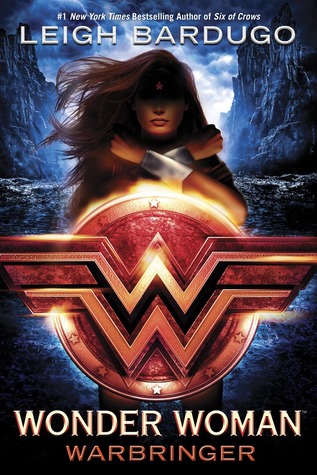 Wonder Women: Warbringer Leigh Bardugo
She will become one of the world's greatest heroes: WONDER WOMAN. But first she is Diana, Princess of the Amazons. And her fight is just beginning. . . .
Diana longs to prove herself to her legendary warrior sisters. But when the opportunity finally comes, she throws away her chance at glory and breaks Amazon law—risking exile—to save a mere mortal. Even worse, Alia Keralis is no ordinary girl and with this single brave act, Diana may have doomed the world.
Alia just wanted to escape her overprotective brother with a semester at sea. She doesn't know she is being hunted. When a bomb detonates aboard her ship, Alia is rescued by a mysterious girl of extraordinary strength and forced to confront a horrible truth: Alia is a Warbringer—a direct descendant of the infamous Helen of Troy, fated to bring about an age of bloodshed and misery.
Together, Diana and Alia will face an army of enemies—mortal and divine—determined to either destroy or possess the Warbringer. If they have any hope of saving both their worlds, they will have to stand side by side against the tide of war.
---
Leigh Bardugo and Wonder Women- what more can I say?
Bad Feminist by Roxane Gay
Pink is my favorite color. I used to say my favorite color was black to be cool, but it is pink—all shades of pink. If I have an accessory, it is probably pink. I read Vogue, and I'm not doing it ironically, though it might seem that way. I once live-tweeted the September issue.
In these funny and insightful essays, Roxane Gay takes us through the journey of her evolution as a woman of color while also taking readers on a ride through culture of the last few years and commenting on the state of feminism today. The portrait that emerges is not only one of an incredibly insightful woman continually growing to understand herself and our society, but also one of our culture.
Bad Feminist is a sharp, funny, and spot-on look at the ways in which the culture we consume becomes who we are, and an inspiring call-to-arms of all the ways we still need to do better.
---
I have been trying to read more non-fiction and essays, and this instantly piqued my interest.
Ok, so finally I have reached the end of all the books I have added to my TBR this week! I think I went a little bit over the top this week….
Let me know if you have any recommendations for me or have enjoyed any of the books I have added to my TBR this week!