I have finally been getting back into the swing of reading.. though my shelf of shame is not getting any smaller. I just keep finding new books to read.
I cannot remember how i found out about 'The Selection' by Kiera Cass, but it's comparison with the Bachelor perked my interest ( i have never actually watched the show but the premise of he book seemed interesting).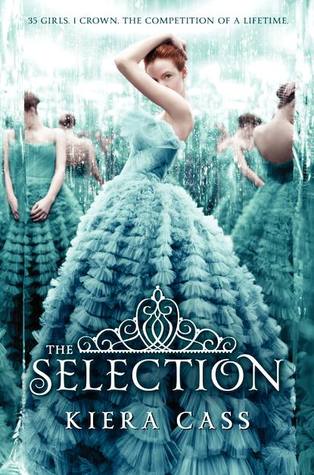 For thirty-five girls, the Selection is the chance of a lifetime. The opportunity to escape the life laid out for them since birth. To be swept up in a world of glittering gowns and priceless jewels. To live in a palace and compete for the heart of gorgeous Prince Maxon.
But for America Singer, being Selected is a nightmare. It means turning her back on her secret love with Aspen, who is a caste below her. Leaving her home to enter a fierce competition for a crown she doesn't want. Living in a palace that is constantly threatened by violent rebel attacks.
Then America meets Prince Maxon. Gradually, she starts to question all the plans she's made for herself—and realizes that the life she's always dreamed of may not compare to a future she never imagined
'The Selection' is the bachelorette set in a dystopian world. America Singer (seriously there were times when i simply could not with her name) was born into one of the lower classes. Her family did not do poorly, they had food most of the time, but still their life was a struggle. She is in a secret relationship with Aspen, a family friend and member of one of the lower 'castes'. America enters the 'Selection'- a 'competition' in which a girl from each of the regions fights for the love of the Prince under the encouragement of her mother and even the encouragement of Aspen.
America has fallen, and after a war (with China i think, i felt the lore and history was not very clear) they are ruled by a royal family. The Prince has come of age and needs to find a wife (sigh) and so the selection occurs.
The story follows America and her experiences in the selection- meeting and dealing with the other contestants, befriending Maxon in the most unconventional way, and trying to mend her broken heart. It was cliche in some ways- we all knew America would be selected either she would fall of Maxon, Maxon would fall for her, or it would be a mutual thing. There were some attempts to bring in some action with attacks on the palace. How rebels managed to break the defences of the ROYAL PALACE i do not know. There was a slight twist and the ending was… meh. Still it was interesting enough to make me finish the book.
America is Ok as a character. While she has her great moments, namely her interactions with Prince Maxon and her Maids, overall i feel there is nothing special about her. I loved the connection between America and Maxon. She was very kind to all of the other contestants as well as the maids and i felt she was a genuine person. I could even go and say she is a strong female character, trying to break out of her gender stereotypes (at times a little bit too literally with the whole pants thing).
Thats why i was very disappointed when she decided to give Aspen the time of day after he left her because of his ego issues. I just do not like Aspen- primarily because he had such a huge problem with America helping her family. The fact that he could not provide for her really injured his masculinity, and he felt they had to break off their relationship and acted just really mean about it. I felt it was very contradictory to America's strong character to simply forgive him and take him back. Hell i would not have even given him the light of day. Yes he was her first true love, but he caused her so much hurt because of his stupid ego (sorry, but that just annoys the hell out of me). And he has the audacity to say he will win her love back. I'm sorry mate, if you really loved her you would be pretty thankful that she is so caring and kind to think of you and your family. Though with the whole 'Prince has a selection' and 'Princess is married off to set up good relations' it is not really a surprise. The Queen seems cool though….
I actually had to put the book down for a day or two after she rekindled her relationship with Aspen.  I just was a bit disappointed for her.. and hurt that she would betray Maxon.
Maxon was ok. I felt at the beginning he was a little weird. Weirdly formal in his language and actions with some pretty dramatic mood changes. That probably should be expected given his royal upbringing and his limited prior interactions with females. I grew to like him as the book progressed and am definitely #teammaxon.
While this book was easy to read, i just felt it was ok. I enjoyed it, just not as much as i thought i would. I love the whole bachelor/bachelorette troupe (especially in fan fiction. Give me the one of the guys working on the set having to fill in in as one of the contestants is missing and ends up falling in love with the bachelor even though he thinks the whole show is a joke and doesn't end up taking it seriously. Bonus points if it is a male bachelor and he is the only male contestant.)  and i have read some amazing fics that appealed to me so much more.
I felt the world the whole story is set in wasn't developed enough. If there was some more background into the whole fall of America with some more history just to catch my interest in the story i might just have been drawn into the story a bit more. The storyline was alright, but at some points i found some things unbelievable (like the rebels managing to break the palace defences so easily multiple times). At least the fact that the whole country watches the selection on the television is believable (trust me, the Bachelor and the Bachelorette are all the rage in Australia)
Worth a read if you are into the YA Romance. I felt by the end of the first book, there was not much of the Dystopian world explored to be in that genre. Not fantastic, or one of my favourites but still enjoyable.